BACK - Marbella
by Morris Bishop
(San Pedro de Alcantara)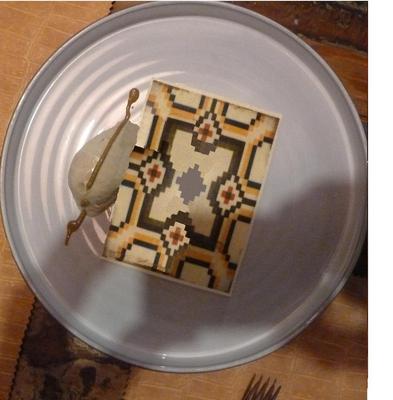 Eatable printed dessert
Why BACK I asked owner Fabion - because I have worked with chef David Olivas before and now we are BACK together once more! The eclectic décor, comfortable furnishing, nice place settings (with the exception of Tivek serviettes), a well stocked bar,and an impossible menu for the most part to make head or tail off, left us seeking advice as to what it all meant. But this, in some strange way, enhanced the fun of the place because in the end we took advice from mine host.


When he showed us a beautiful piece of Galician Rib eye Steak sufficient for the four of us which would be accompanied by grilled vegetables and French fries, this solved the problem of the mains, and not knowing what to expect we plump for starters of Tomato Tartar and an Ensalada of Prawns and Octopus with yellow Mayonnaise and purple Olives which turned out to be a gorgeously smooth decorated Tureen, Both this and the Tartar were excellent in taste, texture and presentation, the like of which was quite new to me.
As an example of the menu's quirkiness, try to guess what you would expect to get with a dish called "Scallop Shells on the grill with grilled Spring Onion, black Aguachile (don't ask) and Black pepper" - well it's a soup! Yet an other amazing dish was one entitled " White Chocolate from another period of time - Cream of vanilla, Iced Leeches, and sugared pistachio." We went for this and once again they achieved the impossible of printing a dish of food (see photo) There is no logic to this place and merely to describe it as a Tapas Bar is to do them a gross injustice, for the ingenuity that David has demonstrated has to be applauded. Unfortunately we go back to the UK shortly, but on our return to the Costa's we will post haste be BACK.
The VS.
Back can be found on the corner of Calle Pablo Casals, 8. and Avda de la Fontanilla.Street parking if your lucky or the underground park in Avda Arias Maldonado. Average price for three courses with wine 30€ There are lots of Tapas dishes which we will explore next time. They also have 2 menus, one called "How much I love you" and apparently it's 40€ worth which is for 5 individual Tapas, half Fish and half Meat and 2 desserts, and the another called "Smile" for 30€ 2 individual Tapas and 2 starters to share (fish, meat or cheese) and 1 dessert. Bread and place setting 1.80€ They have 60 covers, 24 of which are al fresco dinning and are open for Lunch & Dinner 7 days
Reservations on 951550045 or email backrestaurantpublicidad@gmail.com
Website www.backrestaurantpublicided.com
Bishlin marks out of 5,
Ambience:5
Food:4.5
Service: 5
Menu: 5 for weirdness
Value:4.5
O/A 4.5
Please mention to the restaurateur that the restaurant was recommended in the "MarbellaFamilyFun.com" Newsletter. To see even more reviews on the best restaurants in Marbella, check out The Bishlin Guide.
DATE: June 2016