Aloha Golf Restaurant
by Morris Bishop
(mobidata@gmail.com)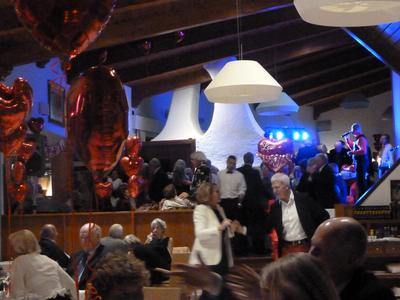 Marbella Revellers at Aloha's Valentine party
Those of you with fond memories of Cipriano's, the prestigious reastaurant in Puerto Banus, may recall the owner's son, Fermin. In 2007 he took over the management of Aloha Golf restaurant and has created one of the foremost golf eateries on the coast.


It was with this background that we eagerly anticipated dining there on Valentines night, and, we weren't to be disappointed.
The hallway approach to restaurant has been made even more grandiose than before, and with a bit of a squeeze they managed to seat 240 guests in the three levels of the dining room.
A fixed priced menu of gratinated Salmon and asparagus in a Mary Rose sauce for starters, followed by Comfit of Duck and trimming, beautifully moist, (considering the mass catering challenge), and a Meringue, Strawberries, and chocolate sauce for desert.
If I am being really picky, this latter was below my expectations, but hey! they do have a budget to work to I suppose.
The entertainment was exceptional with one of the performers giving a credible Elton John tribute.
This 40€ bash proved to be a most enjoyable evening.
Their a'la cart menu is excellent and with an average 3 course meal with wine coming in at under 50€, is to be recommended.
The VS
The Club house is in the middle of the Golf course on Aloha, that is in Nueva Andalucia.
Adequate street parking.
Reservations on 95281 2390
Matra 'D is Paco Torres
(no email address or website for the restaurant that I can find)
They open every day, all day,
There is a separate lunch menu available.
Bishlin marks out of 5:
Ambience: 4.5
Food: 4
Service: 4
Value: 4
Menu: 4 (for the Valentines night)
Menu: 4.5 (for the A'La Cart)
DATE: February 2015