Alexandre's Restaurant - Estepona
by Morris Bishop
(San Pedro de Alcantara)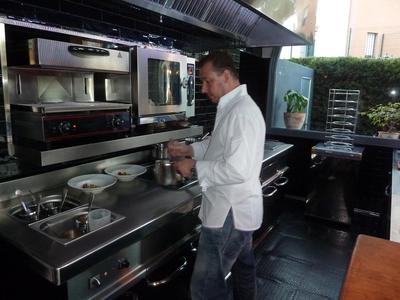 The Maestro at work
When I saw what the Olive Press's editor, Jon Clark (who's opinion I respect) wrote about this eatery, It brought Alexandre to the top of my "Must visit" list. So four handed we embark on an evening of fine dining, the likes of which one rarely experiences on the Costa del sol. Michelin star chef Alex, who hails from Belgium has a beautifully organised kitchen where it all happens in full view of his diners, whilst he orchestrates each element of the dish into an elegant presentation that has flavours, textures and aromas that can only be described as perfection in modern gastronomy.


We found dining al fresco in the candle lit garden of the restaurant enhanced the whole experience. Whilst our waiter Pepe, with the help of a 'blackboard' menu explained in detail each of the 4 starters and 5 mains on offer. Alex mentioned that he goes to market every day, and whatever he finds that inspires him becomes that days fare. So his menu is constantly changing, but this evenings starters were his version of poached Coquilles St. Jacque in a Buerre Blanc sauce, a Lobster Cappuccino, a Tomato - Smoke Salmon - Grey Shrimps - Mozzarella, quartet , Poached egg on a Spinach bed with Mushrooms. and mains of Margret of Duck in a mushroom sauce, Hake en croute with a mustard and green citron sauce, Irish Beef fillet with Pepper sauce, Steak Tartar, and Turbot in Basil sauce.
I should mention that our meal was preceded by a delicious glass of hot chicken soup with cream topped with what I think were truffle gratings, something new to me
Alex said yes to my request for a starter of a half portion of the Tartar main, wile the others choose to begin with the Coquilles St Jacques, and then main courses of Lobster, Filet Beef, and Hake. All our party agreed that we had dined our way through an extraordinary culinary experience that we will long remember. The Reina de Castilla sauvignon complimented our chosen dishes well, with a silky smooth Panacotta topped with berries and a Rhubarb and Meringue delight that we shared for desserts.
Believe it or not in writing this piece I have tried to be as restrained as possible!
The VS.
Alexandre can be found in Avd. Picos de Europa on urb. Monte Biarritz which is the filter off the N340 immediately after the Behavis turn off (200m) approach from the east, take the first right (30m) and the restaurant is 100 m on the left. Street parking. Open for dinner, and by arrangement, lunch for a minimum of 4 people. Their day of rest is Sunday. Average three course meal with wine 60€. They have a 45€ 4 course tasting menu and a 5 course for 55€. There are 26 covers in the garden and a further 24 in the dining room.
One tiny niggle was that we were offered a glass of Rose Cava on arrival that, unexpectedly, we were ultimately charged for!
For reservations call 952886564 or 654405843 or email info@alexandremarbella.com
Web www,alexandremarbella.com
Bishlin Guide marks out of 5
ambience:5
Food:5✸
Menu:4.5
Service:5
Food Value:5
Drinks value:4
O/A:5
Please mention to the restaurateur that the restaurant was recommended in the "MarbellaFamilyFun.com" Newsletter. To see even more reviews on the best restaurants in Marbella, check out The Bishlin Guide.
DATE: June 2016