Alegria Cirque du Soleil in Malaga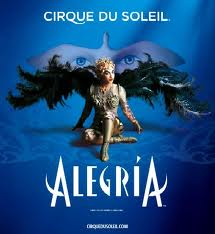 Alegria Cirque du Soleil in Malaga
Alegria Cirque du Soleil is coming to Malaga from December 1 to 4, 2011 at the Palacio de Deportes "Jose Maria Martin Carpena".


Alegria is a "Baroque ode to the energy, grace and power of youth". This show is not your typical circus act.
"It's soaring entertainment because beyond that simple premise and the thrill of athleticism -- it's an artistic, moody, moving piece of theatre."
Times
---
ABOUT CIRQUE DU SOLEIL
Cirque du Soleil is a Quebec company recognized the world over for high-quality artistic entertainment, with over 5,000 employees and artists from over forty countries.
Cirque du Soleil ?raison d?être? is the creation of shows, presented under Big Tops, in theaters or arenas around the world. Nearly two hundred creators have contributed their talent to that end since 1984. Cirque du Soleil has brought wonder and delight to more than 100 million spectators in over 250 cities on five continents.
---
TICKETS
Tickets cost 30 euro to 71 euro and may be purchased at
El Corte Ingles www.elcorteingles.es
or at
Livenation.com
.
DAYS & TIMESThursday December 1
21:30
Friday December 2
17:30
21:30
Saturday December 3
17:30
21:30
Sunday December 4
14:00
18:00