Alberts Bar & Grill | Puerto Cabopino
by Morris Bishop
(San Pedro de Alcantara)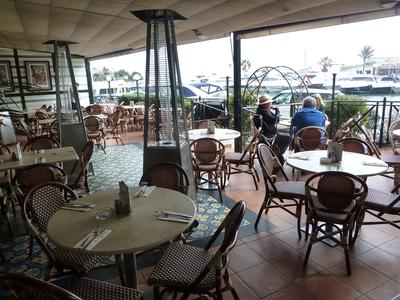 alfresco terrace
The occasion was prompted by an invitation from Christine Rowlands, the chair of Conservatives Abroad to a lunch at Alberts, to which we gladly accepted.


Not having dined there for over 15 years I was keen to find out how this eating house had changed. I must admit that my expectations were, on a scale of 1 to 5, no more than 3 to 4.
The location at the corner of the marina in the picturesque port of Cabopino has a lot going for it. With an elevated terrace seating about 60 and an equal number within the pleasant dining room, the 35 or so assembled guests had a special set menu with delightful Canapés and Carva on arrival, and starter options of an Alberts Salad, Leek and Potato Soup served with Crostini, or Sweet Potato and wild Mushroom Croquettes with a herb salad, and Truffled Pecorino Cheese.
For mains, Smoked Haddock Rarebit with Rosti Potato and a Poached Egg, Jamaican Jerk Chicken with rice, beans and a Caribean Coleslaw, or a Fettucine of Cream of wild Mushrooms and Parmesan with an option to include chicken.
I must say from the outset that the dishes that my wife and I had, exceeded our expectation in Taste, texture, and size by some margin, and the portions were of a size that nobody within our view could finish their mains, and because they were all so delicious, it was not for want of trying, indeed 'Doggy Bags abounded!
Finally a choice of Sherry Trifle or Sticky Toffee Pudding.
English Chef Jason should be proud of his culinary prowess.
Throughout the service, Maitra'D Oliver and his staff demonstrated a commitment that they must be commended for, and this made the whole experience a pleasure for us. Now part of the Metro group,
If I'm not mistaken Alberts originated some 25 years ago by those serial restaurateurs Izzy and Jerry Coleman and I am sure they would approve of how it has evolved.
The VS
Albert can be found in Purto Cabopino, turn off the N340 at km. 195. There a various car parking areas plus street parking in the approach road down to the port entrance. They open from 9:30 for Breakfast, Lunch and Dinner 7 days.
Average 3 course with wine 35€.
Their A'La carte menu is on the website.
Reservations on +34 952836886 or from the web site www.alberts-cabopino.com
Bishlin Guide marks out of 5
Ambience: 4.5
Food: 5
Menu: 5
Service:5
Value: 5<
O/A: 4.8<
Please mention to the restaurateur that the restaurant was recommended in the "MarbellaFamilyFun.com" Newsletter. To see even more reviews on the best restaurants in Marbella, check out The Bishlin Guide.
LOCATION