Alan's Hong Kong Costasol
by Morris Bishop
(San Pedro de Alcantara)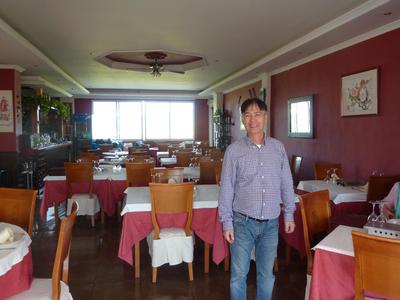 Alan, the long time promoter of Chinese Cuisine in Spain
With over 30 years in the catering trade on the Costa del sol, Alan has been serving Chinese cuisine, originally at The Chef Peking in Purto Banus, and then in the small Alan's Hong Kong in Costasol, before moving to much larger premises in 2006, and he's still there.

We first ate with Alan back in 2004, but then, pretty much all Chinese restaurants used MSG (MonoSodiumGlutamate) and I discovered that after eating Chinese food, that I could not sleep, and on researching this, it was put down to this flavour enhancer being the culprit. So we stopped going to Chinese, until just last week we heard that Alan's Hong Kong is MSG FREE! Did this mean that I could rediscover the delights of one of my favourite Asian foods. Post haste I spoke to The Man who confirmed that indeed they never use MSG. So, that very same day we lunched there.

From a formidable menu we chose Won Ton soup, followed by a quarter crispy duck with pancakes, onions, cucumber and Hoy Sin sauce, and mains of Crispy Beef, Sweet & Sour Pork and plain boiled rice. The Won Ton's were tender, the Beef and pork were succulent and the Rice was sticky, just as it should be. With Lychees, a pleasant wine and a tip the bill came to under 20€ a head.

Hopefully I will not have a disturbed night, and I will be able to file this review, because,
In all honesty this was a delightful meal, eaten in pleasant surroundings, with linen table wear, proper chop sticks, cooked to as near perfection, without MSG, and it was even better than I remember it from all those years ago. So if you are reading this - then that means we will be revisiting Alan's! soon!

The VS.
The restaurant is on the first floor, round about the middle of the Costasole parade of shops on Benavista, that is between Ell Pilar and Bel Air on the N340 Km166, approach from the east. Average 3 course meal with wine 20€. They open for Lunch & dinner every day. 60 covers in the restaurant and a further 40 on the pleasant terrace, but it does suffers from road noise. If you want to dine inside, I suggest booking in advance for dinner and week end lunches. The amiable Alan and wife Shu run the front of house Phone 951272447 or 659379075 No website that I can find



Bishlin marks out of 5
Ambience:4
Food:4.5
Service:4.5
Menu:5
Value:5
O/A: 4.5


Please mention to the restaurateur that the restaurant was recommended in "MarbellaFamilyFun.com" Newsletter. To see even more reviews on the best restaurants in Marbella, check out The Bishlin Guide.