ADANA Dog Show in Estepona
by Marbella Family
(Marbella )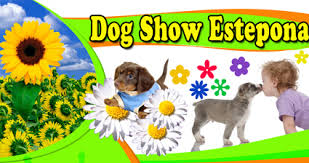 The annual ADANA Dog Show will be held May 4, 2014 at the Palacio de Congresos in Estepona. Doors open at 10.00 for registration and Judging starts at 11.00 sharp.


In addition to the regular show there will be a parade of ADANA Dogs in some form and a display team of ex ADANA dogs which are now working for the police and other services.
There will be commercial stalls, a bar, a tea and coffee stall and a café. We hope to have a display of 21 Years of ADANA and 20 years of the dog show.
Entrance to the show is 5€ for adults. Accompanied children are free.
Entry to each class is 4€.
CLASSES
Agility
Class 1 Jumps course for small dogs
Class 2 Jumps for large dogs
Class 3 Full course small dogs
Class 4 Full course large dogs
Class 5 Absolute beginners on a reduced course
Obedience
Class 6 Triers for dogs with no obedience training
Class 7 Hopefuls for dogs not placed in any obedience competitions
Class 8 Advanced for dogs placed 1st to 6th in previous competitions
Class 9 Best Junior Handler for handlers under 14.
Class 10 Food obstacle course
General
Class 11 Best Puppy (over 6 months and under 2 years)
Class 12 Best Adult (2 years to under 7 years)
Class 13 Best Senior (7 years to under 12)
Class 14 Best Veteran (12 years and over)
Class 15 Best Ex ADANA Dog
Class 16 Dog with the waggiest tail
Class 17 Dog most like its owner
Class 18 Best Trick
Class 19 Musical Hoops
Class 20 Judges' favourites
Best in Show Chosen from the winners of all classes
There will be prizes for 1st, 2nd, 3rd and 4th places in each class except for Judges' favourites when there will be 5 equal 1st prizes.