A Delightful Evening at Lima by Momo, Marbella Old Town November 2014
by Morris Bishop
(San Pedro de Alcantara)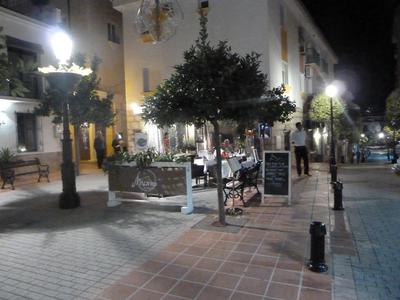 Al Fresco at Lima
Rarely, when all the elements that make up a pleasurable dining experience , with each part exceeding ones expectations, does it become, both a delight, and a memorable occasion, Faultless, is word I almost never use in my scribbling's about restaurants on the Costa del Sol, but Lima by Momo has proved to be the exception, and this, after being open for just a month.


Combining the stylish, modern, and comfortable dining room, with the helpful staff headed up by manger Andi, ably assisted by Sarah, nothing was too much trouble. and from the kitchen producing beautifully presented dishes, full of interesting flavours and textures created by chefs Jose Maria and Divina from Ecuador, (who's cooking I have experienced before when she was at Bijou), to the menu, and management style formulated by Katrin and Juan, the owners of Momo, even down to Mandy, the charming Dublin vocalist, together they produced a FAULTLESS evening.
From a well balanced menu, the governor and I chose a pâté de Foie Gras with apple compote, decorated with Raspberries, and accompanied by a lightly toasted brioche, and, Scallops in a wild mushroom crust, crispy bacon, and a lobster and truffle sauce for starters, and for mains, Rib Eye Beef steak with mashed potato and a mushroom and blue cheese sauce laced with whisky, and Pork belly with Cabbage, herb mash, an apple, soya, and cider reduction, and crackling.
Will we go back? Yes, Yes, Yes.
To mark this occasion, I have created a new Mark for the Bishlin Guide.
That of five plus (5+) for fine dining of excellence
Useful info:
Lima by Momo can be found in Plaza Practicante Manuel Cantos, 2, off Calle Tutean, Marbella, 29601.
Reservations on 952866630 or email to info@limamarbella.com
See the menu on their website www.limamarbella.com
Car parking under the Alameda plaza. Closed on Monday's. but open on Sunday evening. Seating 40 inside and a further 20 in the Plaza outside
Bishlin Guide marks out of 5:
Ambience 5+
Menu 5+
Food 5+
Service 5+
Value 5+ O/A 5+