17th International Fair in Fuengirola - A family event
by Martyn Wood
(Fuengirola, Malaga)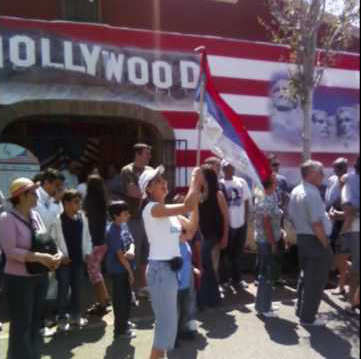 USA - Hollywood
Venue : the Fuengirola fairground, 29th April to 2nd May 2011.


The 16th
Feria internacional de los pueblos - Fuengirola International Fair
attracted over 900,000 people to the huge Fuengirola fairground in 2010, with representation from 33 countries. The 2011 FIP is expected to attract in excess of one million visitors!
This years highlight looks like being the USA, which will feature the great American contribution to music, and will have Elvis Presley, Michael Jackson, Garth Brooks and Neil Diamond tribute shows, as well as live music from Rockabilly, Blue Grass, R&R, Disco and Jazz bands.
The Costa Cheerleaders, a local cheer-leading school for 5 to 18 year olds will give displays, a Line-Dancing group will perform daily and encourage the public to join in with them, and there will be top International DJ's from the Studio 54/Saturday Night Fever era to keep the party going well into the small hours with great music and 70s disco lighting from 1am nightly.
Sideshows and competitions aimed at the younger visitors will keep them entertained whilst parents can enjoy classic Burgers, Southern Fried Chicken, Pulled Pork and of course Apple Pie amongst many other traditional American foods on the menu.
The fairground is easy to get to by car, bus and train and the fair runs from 1pm to 4am every day. Entrance to the fair and all the country exhibits is FREE, and there are fairground attractions as well.
For a complete programme of events, times of shows and special treats, visit www.costadeldisco.com