Marbella Family Fun Weekly Newsletter – December 4, 2015


Events & Attractions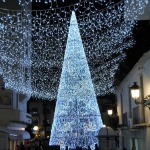 Planning your Christmas and Holiday Season on the Costa del Sol? - Check out our updated page on all the amazing events for families planned for the 2015-16 Holiday Season right here. You'll find detailed Holiday schedules for Marbella, Málaga, Fuengirola and Sotogrande! read more...

Christmas Market in Málaga – 4-8 December - This is the well-known "El Rastrillo" which translates to "Flea Market" , celebrating its 26th edition of their yearly fair in Málaga. read more...

Healing Arts Festival in Marbella – 5-6 December - This is a dynamic bazar which brings together artisans, therapists, natural and organic product and the arts. There will also be live performances and shows of all kinds from around the world. read more...

Dance Workshop for Kids – 12 December - If you have kids, 8 to 13 years of age, that love to dance, here's a workshop in Marbella they won't want to miss. read more...

Flamenco Master Class in Sotogrande – 11-13 December - Sotogrande International School & SI Flamenco Academy are hosting a world-class Flamenco Master Class taught by Antonio Canales, arguably among the best male dancers in the world. read more...

Christmas Concert in Benahavís – 12 December - Founded in 2008, Pequeña Orquesta Mediterránea was created by Musical Director, Alison Harling as a space for all string students on the Costa del Sol. read more...

Peppa Pig & Friends in Marbella – 12-13 December - This could make your childrens' dreams come true. Meet Peppa Pig and her friends at a festival full of games, songs and fun activities for all the family. read more...

Laude San Pedro Christmas Show – 16 December - This show will feature Danzart, Karate, Defense and Rhythmic Gymnastics on the school's campus in San Pedro. read more...

Motorbike Freestyle and Stunt Car Event in Mijas – 19 December - If you're looking for a break from the traditional Holiday events and you love the smell of motorbikes and stunt cars, here's a popular show you may want to check out. read more...
Stuff Parents Want to Know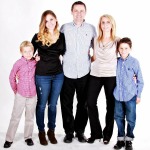 New Dance School for Kids, Teens and Adults in Marbella - Launched by award-winning choreographer, Petra Kovacik, this dance school provides kids, teens and adults with the ability to achieve new levels of fitness and coordination through fun and engaging dance routines. Great for parties too! read more...

Bi-Lingual Nursery in Marbella with a Healthy Mindset - Here's a bi-lingual nursery in Marbella that has developed a following amongst the international community here for their engaging programmes, professional teachers and on-site kitchen which provides fresh, healthy foods to all the kids. read more...

Fun in the Sun on a Marbella Segway or Tandem Bike! - Our kids got on these fun, rugged Segways last weekend and just couldn't stop! When you're cruising along the beach on one of these, it's as if you're gliding on a cloud in a Holiday paradise. The tandem bikes were a big hit also! read more...

Holiday Drop Off Activity Centre for Kids - Want to make sure the kids get out of the house during the holidays? Here's a highly recommended activity centre where they can play sports, do arts & crafts and enjoy an eco-friendly woodlands park. read more...

Benalmadena International Nursery - If you're looking for a nursery for your child up to 6 years of age, this is one with a high staff-to-child ratio that has developed an outstanding reputation since 2005. And because it's bi-lingual, your kids get the benefit of learning a second language in their earliest years. read more...

Have kids that love horseback riding? - For those that have horse lovers in the family, here's a fun and easy way to enjoy the great outdoors under the crystal blue skies of Christmas on the Costa del Sol on a beautiful trail. read more...
Life in Marbella and the Costa del Sol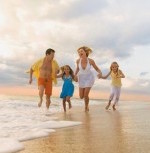 Do you love going to the dentist? - If so, this one may not be for you. But if you are looking for a family-family dental practice in Marbella, Málaga or Benalmadena, here's one that comes recommended by families on the Costa del Sol. read more...

Planning a Party for the Kids this Holiday? - Whether you are looking for a Disney-themed event, zoo-themed party or a full pirate musical adventure, here's a well-known party expert on the Costa del Sol that can take care of all the details so you can enjoy the event. read more...

Does your current health insurance cover your family in Spain? - If you aren't sure about the coverage on your current policy, there's a really good offer this month from a trusted partner in Marbella that offers comprehensive coverage anywhere in the world for a surprisingly affordable rate. read more...

Know someone who would love to spend some time in Spain if only they could find some work and affordable housing? - Here's a solution that offers amazing opportunities for those willing to do a little bit of work for a lot of reward! A great solution for vacation home owners as well. read more...

Classical Music Performances & Events on the Costa del Sol - Get the full schedule, times and locations for world class musical performances and events playing on the Costa del Sol, right here. A great way to share an outstanding classical experience with the family. read more...

Looking for a new place to eat but not sure which to try? - Check out our Bishlin Guide for up-to-date restaurant reviews by real people who share their unbiased perspective on family-friendly restaurants of all over the Costa del Sol. This week's review covers long-time favourite Japanese restaurant, Sapporo, in Estepona. read more...

English Language Movie Listing - Get show times and locations for all the English language movies playing on the Costa del Sol. read more...
Questions & Answers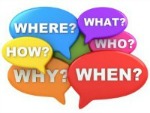 Marbella Questions and Answers Forum - Is where you can get answers to questions you have on Marbella and the Costa del Sol. See what others are asking, below and click the link to see the answers. To post a question or answer one of the queries below, see our full list of Questions & Answers - click here

- Where can I buy a dog on the Costa del Sol? - To find out what others are saying. - click here
Job Board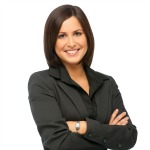 Job Board - To post a job listing or to see our full list of available positions in Marbella – click here

WANTED: Business Development Managers - click here

WANTED: Telesales Reps for a property investment company in Marbella. - click here

WANTED: Multilingual Nurse for a Well-Known Clinic in Marbella - click here
---
Does your business need a BOOST?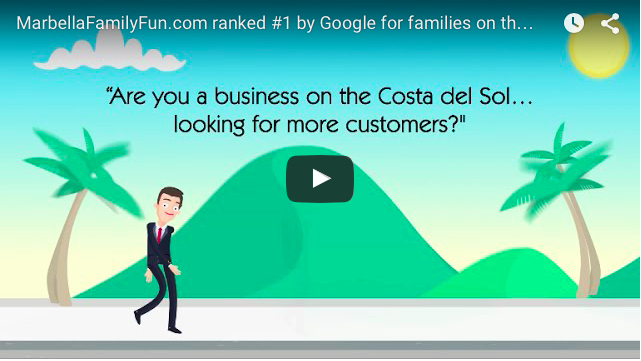 If you're looking for a way to reach international families in Marbella, Google now ranks MarbellaFamilyFun.com as the #1 portal on the Costa del Sol!

Looking for new customers on the Costa del Sol? - Do you - or someone you know - have a business in the area but just can't seem to find a way to connect with new customers? Check out this short video for some great tips. short video...

We offer you an interactive platform to reach families and hear their direct feedback on your business. Before you spend a lot of money on advertising that may never reach your customers, find out how MarbellaFamilyFun.com can help you reach the people who can benefit from your products or services.

We offer a variety of packages to choose from to list and promote qualified businesses, services and events. Contact us if you would like to meet up with one of our representatives or have any questions: +34 671 450 434. Advertising Rates
Nothing is more powerful than "Word of Mouth"
Please tell your friends and family about our newsletter, and don't forget to follow us on Facebook and Twitter.

See you next Friday!