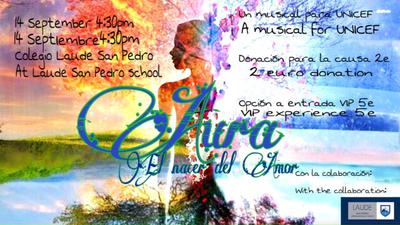 Marbella Family Fun Weekly Newsletter – September 11, 2015
The Marbella Rubgy Club Registration and Party – 12 September - Kids from 5 years of age and up are invited to join the club this season and enjoy world-class training right here in Marbella. There will also be a Trocadero "Ruck & Roll" party to celebrate the new season starting at 7pm, Septmber 12th. read more...
Family Bike Ride for Charity in San Pedro – 13 September - A family friendly biking event for charity will take place in San Pedro this weekend. read more...
Laude Musical to support Refugee Crisis – 14 September - All are invited to Laude San Pedro International College this Sunday to see a new play entitled "Aura, el nacer del amor". All proceeds from the €2 entrance fee will be donated to support the refugees in desperate need of help all over Europe. read more...
World Class Classical Music Performances…in Marbella? - Did you know your family can experience world-class, classical musical performances right here in Marbella? Música con Encanto brings amazing performers right to our doorstep from all over the world. For aspiring musicians, they even have a youth orchestra open to string students, 7 to 13 years of age. read more...
Dia del Pedal Bicycling Day – 20 September - If your family likes biking they will LOVE this event. A great day to get out with the whole family, kids, teens and adults, to ride through our favourite city! read more...
Popsicles to get the kids eating their greens? - Want to learn how popsicles can get your kids eating their greens AND help you move through produce before it goes bad? Check out the latest tips on the Marbella Family Nutrition Blog. read more...
English Midwife Classes for Delivery Preparation - If you, or someone you know, is expecting a baby soon, there are new group classes available starting from the 15th of September. The classes will cover water-birth, cesarean, pelvis preparation, stem cells, first days with the baby, what to prepare and what to expect on delivery day. read more...
Is the past preventing you or a friend from moving forward in life? - Leila is a professional relationship coach focused on providing practical advice to women on the Costa del Sol. Check out her latest video blog regarding how taking the first steps to overcome pre-judgement is vital to building healthy and productive relationships. read more...
The most family-friendly Mexican food in Marbella! - If you like the idea of enjoying authentic Mexican burritos, enchiladas and quesadillas on the terrace where the kids can play in a classic Spanish square, then this one comes recommended by local families. Excellent margaritas to complement our warm evenings as well. read more...
The City of Marbella has published a list of Gluten-Free Restaurants. - The Tourism Department of Marbella has listed restaurants on the link below as having gluten-free options for Marbella visitors. Let us know what you think of them. read more...
Two new properties in the €500k range. - If you're in the market for a family home or retreat, here are two properties that are in a price range that may be particularly attractive given their size and location. read more...
English Language Listing - Queen and Country is the featured movie this week which is the sequel to Hope and Glory. Bill Rohan has grown up and is drafted into the army, where he and his eccentric best mate, Percy, battle their snooty superiors on the base and look for love in town. Check out the trailer and get show times and locations for all the English language movies playing on the Costa del Sol. read more...
Looking for new customers on the Costa del Sol? - Do you - or someone you know - have a business in the area but just can't seem to find a way to connect with new customers? Check out this short video for some great tips. short video...
Job Board - To post a job listing or to see our full list of available positions in Marbella – click here
Marbella Questions and Answers Forum -To post a question, answer or to see our full list of Questions & Answers - click here
- A visitor asks Where can I find a recommended school for Autistic children in Marbella? - Find out what the community says on this topic. - click here
---
Does your business need a BOOST?
If you're looking for a way to reach international families in Marbella, Google now ranks MarbellaFamilyFun.com as the #1 portal on the Costa del Sol!

We offer you an interactive platform to reach families and to hear their direct feedback on your business. Before you spend a lot of money on advertising that may never reach your customers, find out how MarbellaFamilyFun.com can help you reach the people who can benefit from your products or services.

We offer a variety of packages to choose from to list and promote qualified businesses, services and events. Contact us if you would like to meet up with one of our representatives or have any questions: +34 671 450 434. Advertising Rates
Nothing is more powerful than "Word of Mouth"
Please tell your friends and family about our newsletter, and don't forget to follow us on Facebook and Twitter.

See you next Friday!