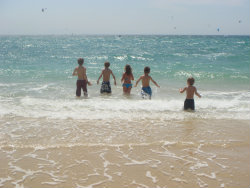 Marbella Family Fun Weekly Newsletter – June 5, 2015
Laude Summer Fair – Today is the day! Do not miss the Laude San Pedro Summer Fair. This event is tons of fun for the whole family and proceeds will go to support children in Ukraine and families in need in Nepal. Bring the kids and enjoy music, entertainment, raffle, games and more. read more...
Battle of the Bands Kids Edition – June 6th at 20:00 on the San Pedro Boulevard. read more...
Golf Tournament and Gala – Debra is hosting their annual golf tournament and gala dinner. This is their main event to raise funds for "a life free of pain" for Butterfly Children. Debra hopes they can count on your participation and support. Mark your calendars for June 6 and 7th for these two very worthy events. read more...
Dance Party for All in San Pedro - Dance Marbella – Uni2 x el Baile – Sunday June 7th end of season dance party on the San Pedro Boulevard. From 19:00 – late. for more information about Dance Marbella dance school read more…
Frozen Fans - Frozen Party in the Park at the Multisports Club, June 12th. Live sing-along, story time, games, treasure hunt, balloon gifts and surprise guest! Get your tickets today, spaces are limited read more...
San Bernabe Marbella Fair - Feria de San Bernabe takes place this year from June 8 to 14. There are lots of celebrations and events taking place throughout the city for the fair. read more and get the full schedule here...
Costa Women Coffee Morning – Whether you have been on the Coast for years or just a few weeks, Costa Women is a great way to meeting new people, make friends and get great deals. Next meeting is on June 12th. Non-members are welcome too. read more...
Piano Concert for Charity in Estepona - We are delighted to inform you that Samuel Gomez, currently in Year 12 at Laude San Pedro International College, will be giving a live piano concert on Saturday 13th June, at 21.00 in Estepona (recinto ferial; caseta oficial). This event is organized by the Estepona Town Hall. read more...
Imagine your name or company logo on a Marbella racing boat! - This is an amazing and affordable gift for a friend or family member who are passionate sailboat racers or supporters of Marbella. It's also a way to feature your company logo in a prominent and impressive way on your social media channels or website. read more...
Looking for your dream home? - Finding your dream home in Spain can be time consuming and frustrating, especially when that home is in a foreign country. The consequences of getting it wrong are daunting; the rewards for getting it right are enormous. Let the professionals at Location Moves Properties do it for you. read more...
Noche de San Juan - What's so special about Noche de San Juan? Anticipated by locals and tourists alike. Noche de San Juan is a night to look forward to and like many celebrations in Spain it is a great excuse to get out and enjoy the beauty of the Costa del Sol with family and friends. read more...
Bishlin Guide Restaurant Review – Find out what our Food Critic had to say about his experience at The Boardwalk on Marbella's Paseo Maritimo. read more...
English Language Listing - Check out the official trailer for Tomorrowland, the new Disney movie starring George Clooney and get all the show times and locations for English language movies playing on the Costa del Sol. read more...
Job Board - To post a job listing or to see our full list of available positions in Marbella – click here
Marbella Questions and Answers Forum -To post a question, answer or to see our full list of Questions & Answers - click here
- British family moving to Marbella looking for a competitive gymnastics group for a 6 year old girl. Recommendations appreciated. click here
- American golf enthusiast coming to Nueva Andalucia for honeymoon June 15th – 30th. Looking for English speaking fellow golf enthusiasts. click here
- Looking for a long term rental - from now for 10-11 months. Marbella to Cancelada. 3 Bed in a good locality with parking and wifi. click here
- Which service provider has a cheap but reliable, preferably 4G (aka LTE) network that has prepaid data SIM cards click here
- Does anyone have a number for a taxi in San Pedro / Benahavis area that takes 5 people (and not the usual 4); 3 adults , 1 teenager and 1 child. click here
- Do you know if any Water Parks and Theme Parks are open over Christmas in Southern Spain. We want to go from 21st December until 28th December click here
---
Advertise With Us
Does your business need a boost? Looking for a way to promote your family friendly business or event? Consider advertising with MarbellaFamilyFun.com to reach the audience you need. We have a wide variety of packages to choose from to list and promote qualified businesses, services and events. Contact us if you would like to meet up with one of our representatives or have any questions: +34 671 450 434. Advertising Rates
Don't forget the power of "Word of Mouth"
Please tell your friends and family about our newsletter, and dont forget to follow us on Facebook and Twitter.

Thank you...and see you next Friday.