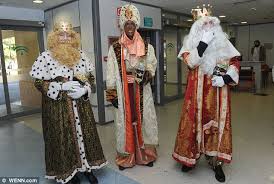 Marbella Family Fun Weekly Newsletter – January 2, 2015
Three Kings Day in Marbella - is very special, it honors the visit of the Three Kings to worship and bring gifts to the new-born Jesus Christ. In Spain, it has traditionally be the most important day that culminates the Christmas holidays. read more...
Marbella Holiday Events Schedule - don't miss your chance to meet The Three Kings in San Pedro and Marbella, post your letter to the Three Kings. The Magi from the East, will receive all children in the temple Park and Plaza de La Alameda Square Church of the church of San Pedro Alcantara. Find all of the remaining Christmas events here. read more...
Go Ice Skating - the ice skating rink will be in the Plaza Antonio Banderas in Puerto Banús until January 6. A Marbella holiday event not to miss! Open from 12.00 to 21.00. read more...
Walk the Dogs - looking for something to do on a Saturday morning? Go to Triple A cat and dog shelter, just behind La Canada, on the road to Ojén. There you can spend the day or even a couple of hours playing with the adorable dogs and cats of Triple A. read more...
Let them Eat cake - don't forget to get a Roscón de Reyes or King's Cake. They are available pretty much everywhere this time of year. It is to be eaten with family and friends on Three Kings Day. read more...
Free Stuff in Marbella – believe it or not there is a wide variety of things to do for free (or at a low cost) in Marbella. Most of them are outdoors so it is best when the weather conditions are good. Luckily the weather is good in Marbella almost every day so your chances are pretty good to get lots of Marbella Free Stuff. read more...
Multisports Club Christmas & New Years Camp Schedule - throughout the school holidays Multisports Club offers a safe place for kids to hang out, play and have fun!! Open for Kids Drop-Off: 22,23,24,29,30,31 Dec and 2 & 5 Jan. Christmas & New Year Kids' Club and Youth Football. Special rates for tennis court hire. read more...
Kid's Club Christmas & New Years Timetables 2014-15 - the Kid's Club is offering a fantastic array of activities for you to engage your kids in this holiday season. Check out the detailed schedule covering the dates from 20 December 2014 - 06 January 2015. read more...
Indoor Rock Climbing - Vertikalia is an indoor rock climbing facility (low ceiling climbing hall with padded floor) comprised of 160m2 and over 2500 holds. We welcome expert climbers who are looking for a hard training session as well as newbies who are looking to work out or want to get experience for rock climbing. Lessons for kids on Friday evenings. read more...
Organic, Eco-Friendly, Bio Shop - you'll love shopping at Sekoia for all of your eco-friendly needs including natural cosmetics for babies, kids and women, toys, educational games, breastfeeding advice and equipment, make up, cloth diapers, cleaning products, workshops. read more...
Marbella Firewood Delivery - looking for firewood to be delivered to your doorstep? Make one phone call for prompt delivery of great quality firewood, direct to your doorstep on the Costa del Sol. read more...
English Movie Listing - get show-times and locations for all of the English movies playing on the Costa Del Sol this week English Movie Listing
Bishlin Guide - stay up-to-date with the Marbella restaurant scene with the Bishlin Guide. Bishlin Guide Bel-Air Tennis Club Bishlin Guide El Pozo Viejo
---
Do you know of great upcoming activities for kids and families or a holiday event? Share it with us here Share it Here
---
PROFESSIONAL SERVICES
To post job listing or to see our full list of Professional Services click here
MarbellaFamilyFun is hiring a Sales Manager for its Marbella operations. If you are interested, please email your CV in English to info@marbellafamily.com. read more...

---
QUESTIONS & ANSWERS
To post a question or see our full list of Questions & Answers click here
---
---
Advertise With Us
Does your business need a boost? Looking for a way to promote your family friendly business or event? Consider advertising with MarbellaFamilyFun.com to reach the audience you need. We have a wide variety of packages to choose from to list and promote qualified businesses, services and events. Contact us if you would like to meet up with one of our representatives or have any questions: +34 671 450 434. Advertising Rates
Dont Forget The Power Of The BUZZ
Please tell your friends and family about our newsletter, and dont forget to follow us on Facebook and Twitter.

Thank you...and see you next Friday.