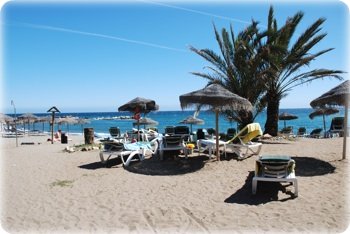 Marbella Family Fun Weekly Newsletter – July 24, 2015
The last week of July is packed with family-fun things to see and do in Marbella. Whether you are into the circus, fiestas or healing arts fairs on the beach, you'll find something for everyone this coming week.
The circus is in Marbella! - If acrobatics, balancing acts and clowns are your thing, this is a great event for the whole family. It's also an animal-friendly circus so you won't find any caged bears or tigers. And because it's located right on the beach, it makes for fantastic evening entertainment. read more...
Healing Arts Festival in Marbella - 25-26 July 2015 - Festival Arte Sano, one of the coast's most popular summer festivals, celebrates its 10th year on the San Pedro sea front. This year the healing and performing arts festival goes retro to the 60s and 70s. A groovy venue for the whole family. read more...
If your kids like sports, there's a summer camp starting next week. - From July 27th to August 21st, the camp will be held daily at Mayfair International Academy. Perfect for sporty boys and girls, 3 to 14 years of age. Daily from 10am - 2pm. read more...
This i-PAD can save your life. - Recently available direct here in Marbella, this is a small, portable defibrillator that you can now have in your home, car or office in case you need it. No special medical training needed because the device is easy to use and gives you voice instructions multiple languages. An amazing and new life-saving technology that is remarkably affordable. read more...
Nueva Andalucia Feria & Fiesta this weekend. - Here's one for those looking for a classic Spanish festival. The community of Nueva Andalucia is hosting its annual summer Feria this weekend with sports, workshops, dancing and music all weekend long. read more...
Just for kids that love science – or are curious about how things work. - The Marbella Science Camp is offering kids 3-to-11 years a great opportunity to get hands-on science fun with all the proceeds going to Piel de Mariposa, the charity which helps local children with the debilitating "butterfly skin" disease. A fantastic way to for kids to learn about science while supporting a local cause. read more...
Running & Swimming Race on the Paseo Maritimo - July 26th! - If running and swimming is your thing, here's a chance to get out and race with the best of them in Marbella. The race will feature five kilometers of running and a one kilometer swim. read more...
What you need to know in case your child damages a tooth. - Summertime play means kids are likely to be running around with wet feet on slick surfaces. Find out what you should do in case they slip and damage their tooth in the latest update to our Marbella Family Medical Blog. read more...
English Language Listing - Here's one that kids (and adults) will love! Check out the official trailer for Inside Out, a new animated film from the geniuses at PIXAR about a teen navigating her life in a new city. Get all the show times and locations for English language movies playing on the Costa del Sol. read more...
Free medical breast examinations until July 31st - If you've detected something unusual or simply aren't sure, Hospital Ceram is offering free medical breast examinations by a doctor until July 31st. When in doubt – check it out! read more...
Are all the devices around your house driving you nuts? - Sometimes it seems as though the whole family is spending more time on their phones and tablets than with each other. But is it a problem? Find out how to manage 21st century technology in our new Marbella Digital Family Blog. read more...
Looking for new customers on the Costa del Sol? - Do you - or someone you know - have a business in the area but just can't seem to find a way to connect with new customers? Check out this short video for some tips. short video...
Job Board - To post a job listing or to see our full list of available positions in Marbella – click here
- Job Opportunity for Personal Assistant to the CEO – click here
Marbella Questions and Answers Forum -To post a question, answer or to see our full list of Questions & Answers - click here
---
Does your business need a BOOST?
If you're looking for a way to reach international families in Marbella, Google now ranks MarbellaFamilyFun.com as the #1 portal on the Costa del Sol!

We offer you an interactive platform to reach families and to hear their direct feedback on your business. Before you spend a lot of money on advertising that may never reach your customers, find out how MarbellaFamilyFun.com can help you reach the people who can benefit from your products or services.

We offer a variety of packages to choose from to list and promote qualified businesses, services and events. Contact us if you would like to meet up with one of our representatives or have any questions: +34 671 450 434. Advertising Rates
Nothing is more powerful than "Word of Mouth"
Please tell your friends and family about our newsletter, and don't forget to follow us on Facebook and Twitter.

See you next Friday!