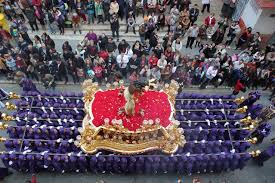 Marbella Family Fun Weekly Newsletter – April 3, 2015
Have you experienced a Semana Santa Procession yet? - One of Spain's most impressive cultural events of the year, Semana Santa processions are on the "not to be missed" list of events. Whether you live in Marbella full time or are just visiting, take the time to check out the schedule of Semana Santa Processions and make the time to experience at least one this year. Today there are two in Marbella, one in San Pedro and one in Nueva Andalucia. On Easter Sunday, there will be one in Marbella and one in San Pedro. read more...
Triple A Dog Walks Marbella - Got dogs? Like dogs? Wish you had a dog? Here is an event for you…Triple A dog and cat rescue center is planning a charity dog walk on April 12, with lots of goodies and freebies. Don't miss it. It is doggone good fun both for dogs and dog-lovers alike. read more...
Easter shopping hours - Although we are in a holiday weekend, El Corte Ingles has extended its opening hours and will be open today and Saturday from 10:00 – 22:00. That's good news if you are planning a big holiday celebration and need some last-minute items. Thanks ECI! read more...
Easter Camps in Marbella - Are offered for all interests and ages for "kids" from 2-to-20 years old. Whether your children are interested in arts, crafts, tennis or other sports, you'll find a variety of offers on our Kids Camps page, which has a discrete section on Semana Santa. read more...
CostaJump is coming! - Get ready for Marbella's first mega-trampoline facility, coming next month to San Pedro. This immense facility is sure to be a hit with kids, teens and adults alike for birthdays, parties and group events. Over 30 interconnected trampolines, basketball slam-dunk courts and a MiniJump Zone for the kids will give you superhuman power to literally touch the sky. Be the first to schedule your kids' birthday party at Marbella's hottest new fun zone. read more...
Get fit like a Royal Marine Commando -The new programmes at CommandoFitness in Elviria offer you an array of engaging, fun and effective ways for you and your family to get fit for beach season. The Fit2Box sessions give you the fitness benefits of professional boxers - without the black eyes. And the new CommandoKids programme is a great way for kids 8 – 14 years of age to improve strength, coordination and mental concentration to end the school year on a strong note and kick off a healthy summer. read more...
Yoga classes for kids - are a great way to help young ones learn how to achieve physical and mental strength skills that they can use their entire lives. The new kids yoga classes at CERAM are perfect for kids 6-12 years of age and are held Fridays from 5:30pm. Your kids will learn to develop their flexibility, coordination and concentration skills in a fun and interactive session at CERAM's fantastic new yoga studio in Marbella. read more...
Golf Tournament and Gala Dinner - Debra announces their annual golf tournament and gala dinner. This is their main event to raise funds for "a life free of pain" for Butterfly Children. Debra hopes they can count on your participation and support. read more...
San Barnabe Feria - will be from June 8 – 14, this year. To check out all the upcoming Ferias on the Costa del Sol check out our "Ferias in Spain" page. read more...
English Movie Listing - check out the official trailer for the new Fast and Furious movie – Furious 7. Also playing on the Costa del Sol this week: Pride, The Second Best Exotic Marigold Hotel, Focus, Chappie, Kingsman, American Sniper, Fifty Shades of Grey, and the original 1980's classic, Blade Runner, with Harrison Ford. Get the all the English language movie locations and show times. read more...
Job Board
To post a job listing or to see our full list of available positions in Marbella - click here
Questions and Answers
- How do you transfer car registration from non-Spanish to Spanish? click here
Does anybody have any tips or suggestions? To post a question or see our full list of Questions & Answers - click here
---
Advertise With Us
Does your business need a boost? Looking for a way to promote your family friendly business or event? Consider advertising with MarbellaFamilyFun.com to reach the audience you need. We have a wide variety of packages to choose from to list and promote qualified businesses, services and events. Contact us if you would like to meet up with one of our representatives or have any questions: +34 671 450 434. Advertising Rates
Dont Forget The Power Of The BUZZ
Please tell your friends and family about our newsletter, and dont forget to follow us on Facebook and Twitter.

Thank you...and see you next Friday.