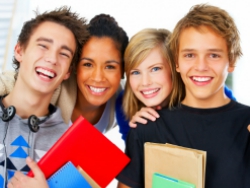 Marbella Family Fun Weekly Newsletter – August 28, 2015
Family friendly 10K run for a great cause – August 30th. - Mark your calendars for another great 10K in Marbella this weekend. The III Carrera Solidaria will be a fantastic way to get out and show your support for the fight against Multiple Sclerosis. There will also be a "Mini 2K" for those that want to participate. read more...
Best Schools for Teens on the Costa del Sol - If you've got teenagers at home and are thinking about which schools are the best on the Costa del Sol, check out our all-new Marbella Schools for Teens section. Let us know your experience with your favourite schools on the Coast – we'd be glad to share your feedback with the community for others who are interested in this popular topic. read more...
Are you facing the grueling process of University applications this fall? - If you could use some assistance preparing your teenagers for entrance exams or even in selecting the right school, here's a highly recommended service in Marbella that can assist with placement exams including IGCSE, A-Levels, IB, GED and SAT preparation. read more...
Attention Hip Fashion Lovers! - If cool shopping for specialty fashion brands is your thing, check out the Julietta Concept Store in Old Town Marbella this weekend. You'll find 1,150 square meters of trendy shopping in a pop-up concept that will remain open until 31 August. read more...
If you like beach volleyball, don't miss this one! - The best beach volleyball tournament returns to Reserva del Higuerón for the third consecutive year! read more...
Want to put the Carbs back into Marbs? - Hit UK TV show, Come Dine With Me, is looking for British solos and couples to audition for the show's filming on the Costa del Sol next month. Best host wins a cash prize! read more...
Need to relax a bit after a stressful summer with the kids at home? - Give Wendy a call at Massage Pro. She's a professional American masseuse trained in Holland who has been helping families on the Costa del Sol since 2011. She'll come to your home or you can receive a relaxing massage at her studio in Elviria. read more...
English Language Listing - Marvel's latest superhero blockbuster, Fantastic Four, is now showing in English! You can watch the trailer and get show times and locations for all the English language movies playing on the Costa del Sol. read more...
Looking for new customers on the Costa del Sol? - Do you - or someone you know - have a business in the area but just can't seem to find a way to connect with new customers? Check out this short video for some great tips. short video...
Job Board - To post a job listing or to see our full list of available positions in Marbella – click here
Marbella Questions and Answers Forum -To post a question, answer or to see our full list of Questions & Answers - click here
- A visitor asks Can anyone recommend a good nanny or housekeeper in Marbella? - Find out the opinions of others in this situation. - click here
- Another visitors asks Can anyone suggest a retailer/megastore in the greater area Malaga to Estepona (preferably Marbella) that has IN STOCK a LARGE VARIETY of child car seats and allows you to take your car and check the size/fit before buying? - Have you been in this situation? Let us know about what you found, we'd be glad to share it with the community. - click here
---
Does your business need a BOOST?
If you're looking for a way to reach international families in Marbella, Google now ranks MarbellaFamilyFun.com as the #1 portal on the Costa del Sol!

We offer you an interactive platform to reach families and to hear their direct feedback on your business. Before you spend a lot of money on advertising that may never reach your customers, find out how MarbellaFamilyFun.com can help you reach the people who can benefit from your products or services.

We offer a variety of packages to choose from to list and promote qualified businesses, services and events. Contact us if you would like to meet up with one of our representatives or have any questions: +34 671 450 434. Advertising Rates
Nothing is more powerful than "Word of Mouth"
Please tell your friends and family about our newsletter, and don't forget to follow us on Facebook and Twitter.

See you next Friday!