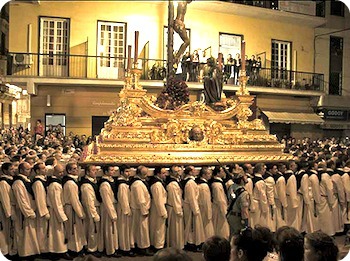 Marbella Family Fun Weekly Newsletter – March 27th, 2015
Want to know the schedule of events during Easter? - Don't miss the first processions taking place on Palm Sunday, March 29th in San Pedro at 12:00 and Marbella at 18:00 to mark the Jesus' entry into Jerusalem. Get the entire Semana Santa procession schedule here for Marbella, San Pedro and Nueva Andalucia. Easter is among the biggest holidays in Spain and with so many events taking place you're bound to find one that you and your family will enjoy. read more...
Ever wondered about those pointed hoods? What is a trono? And other questions about Semana Santa traditions - Holy Week, is a holiday in Spain filled with rich religious fanfare, culture, parades and music. During the processions you surely will run into a group people that look like members of the Klu Klux Klan. Do not be alarmed and do not confuse this with the KKK, who adopted the pointed hoods after witnessing the Spanish Easter processions and were impressed by their effect on the public. read more...
Easter Camps in Marbella - Are offered for all interests and ages for "kids" from 2-to-20 years old. Whether your children are interested in arts, crafts, tennis or other sports, you'll find a variety of offers on our Kids Camps page, which has a discrete section on Semana Santa. read more...
The Multisports Club announces a special offer for kids! - In addition to its annual Semana Santa Camp, running from 30 March – 10 April, the Multisports Club is offering a variety of packages for tennis court hire membership for as low as €1 per day! read more...
Put on your Easter Bonnet and join Marbella Golf Country Club for a traditional Sunday lunch from 1:30pm overlooking the beautiful golf course and Mediterranean. Children's menu available upon request. read more...
You bring It, they'll Bling It! - Bling Artist Nancy Van Der Veken has brought us Bling Boutique, Marbella's first Bling Atelier. Bring your favourite fashion items or accessories and the Boutique will Bling It! for you, creating an absolutely one-of-a-kind article for your sheer delight. Bling also offers off-the-shelf Blinged items for brands like CONVERSE, UGG's, iPhone, Samsung and many more. Kids and adults can also enroll in Bling Workshops during Semana Santa to learn how to create their own Bling gear. read more...
Tired of losing expensive school uniforms and other articles that your kids take to school? - Here's a fast, easy and attractive way to label clothing and accessories to make sure all your family's belongings are easily identified and returned. Kids are switching to summer uniforms after the break - a perfect way to make sure that nothing gets lost this year. read more...
Spring Cleaning - Now is a great time to clean out those closets and cupboards. If you are looking for a great organization to donate unwanted goods to than look no further than Debra Charity Shop. Debra Charity Shop has multiple locations in and around Marbella including a brand new shop in Old Town Marbella at C/Caballeros 9, Old Town Marbella. read more...
Looking for great organic meats, poultry and dairy in Marbella? - We were referred to the Galician Butcher from a family friend and have been back multiple times ever since. Adrian and his family take the time to explain the background of all their products - fresh meats, poultry, dairy products from Galicia, the culinary centre of Europe. read more...
English-language television dedicated to Marbella - If you're interested in learning more about what's happening in and around Marbella, check out the all-new Marbella Now television program. Each week host Nicole King welcomes special guests with unique stories and insight on Marbella lifestyle topics. You can download the episodes anytime on MarbellaFamilyFun.com and watch from your PC, laptop or mobile device. Due to Marbella's extensive Semana Santa program Marbella Now will not be airing for two weeks. Be sure to tune in to Marbella Now on April 9th to catch up with all the local news and events. read more...
Take the hassle out of airport parking in Marbella - Next time you fly out of Malaga, try Costa del Sol Airport Parking. They'll meet you right at the Terminal and pick up your car so you don't have to worry about delays taking a mini bus from an offsite location. It's also great when you return from your trip to find your car clean and waiting for you right outside of the terminal. A big time saver after a long journey. read more...
Free Family Fun at FNAC - We love promoting free family events. FNAC Kids Club at La Canada offers gratis classes and workshops on Saturdays and holidays at 12:00. Upcoming events include: Planetary Workshop, free screening of "The Penguins of Madagascar, and Key Workshop. read more...
San Barnabe Feria June 8 – 14 read more...
English Movie Listing - check out the official trailer for the new Disney movie Cinderella. Also playing on the Costa del Sol this week: Pride, The Second Best Exotic Marigold Hotel, Focus, Chappie, Kingsman, American Sniper, Fifty Shades of Grey, SpongeBob, Annie and the original 1980's classic: Bladder Runner with Harrison Ford. Get the all the English language movie locations and show-times. read more...
Having trouble finding a babysitter or housekeeper you can trust? - check out Mary Poppins Services, the first agency in Marbella specialized in the recruitment of highly-qualified staff and caregivers. Their portfolio of services in Marbella includes: Nannies, Babysitters, Housekeepers, Maids and Adult Care. read more...
Bishlin Guide Restaurant Review – this week find out what our Food Critic had to say about El Ranchero in San Pedro. If you are looking for "good, honest, simple, and delicious food", El Ranchero is for you. read more...
Job Board
To post job listing or to see our full list of Professional Services - click here
Questions and Answers
- Can anyone recommend a good kindergarten? One of our readers has a 3 year-old son and will be staying in Puerto Banus for one month this summer. They would like to send their son to a kindergarten where he can learn a little bit of Spanish. click here
- Looking for a lady friendly gym. A MarbellaFamilyFun.com reader would like classes especially body pump and spinning. I'm staying between Estepona & Puerto Banus. Any recommendations please? click here
Does anybody have any tips or suggestions? To post a question or see our full list of Questions & Answers - click here
---
Advertise With Us
Does your business need a boost? Looking for a way to promote your family friendly business or event? Consider advertising with MarbellaFamilyFun.com to reach the audience you need. We have a wide variety of packages to choose from to list and promote qualified businesses, services and events. Contact us if you would like to meet up with one of our representatives or have any questions: +34 671 450 434. Advertising Rates
Dont Forget The Power Of The BUZZ
Please tell your friends and family about our newsletter, and dont forget to follow us on Facebook and Twitter.

Thank you...and see you next Friday.