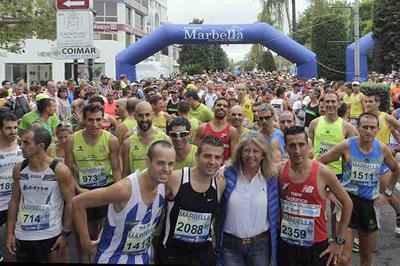 Marbella Family Fun Weekly Newsletter – September 25, 2015
Marbella Half Marathon this Weekend! – 27 September - If you're a runner, this is not one to miss. The Marbella Half Marathon celebrates its 30th year in Marbella this month. read more...
Emergency Family Response Services from Estepona to Mijas - Based in Marbella, this clinic is open 24 hours a day, 7 days a week, for home doctor and emergency services to both members and non-members alike at affordable prices. read more...
Authentic Mexican Mariachis in Marbella – 02 October - A fun night out with the family is in store for those that go to San Pedro to hear live Mariachi Singer, Cesar Leon, while enjoying authentic Mexican cuisine right beside the beautiful central square in San Pedro. The outdoor terrace is in a secure location making it a great location for kids. read more...
Still trying to learn Spanish after all these years? - There's now a way for you to get beyond your broken, semi-comprehensible Spanish skills and quickly jump to the next level! The first lesson is free so you can see for yourself how you can quickly reach a comfort level with Spanish that you may not have thought possible. read more...
What's it like to be a Teen in Marbella on the Costa del Sol? - Contributing Blogger and English International College graduate, Melissa Garrett, is interviewed on Mi Marbella with Nicole King about what it's like to grow up as a Marbella teen in Europe's #1 playground – and what happens after teen life…Get the whole interview here. read more...
Free Meditation Event in Marbella – 26-27 September - If you've always wondered what proper meditation could do for your health and stress level, here's a free way to test it out at a new local meditation centre. read more...
Free Cheerleading Classes in Marbella, Benalmadena and Sotogrande – 26-27 September - Here's an opportunity to get your kids into a great activity that builds coordination skills and teamwork while getting fit at the same time. First class is free so it's a unique opportunity to give it a try! read more...
Neon Night Fundraising Walk– 03 October - Last year, this event attracted over 800 people, eager to show their solidarity and all funds raised will go toward needy organisations including CADI (for child diversity) and Plan Internacional (which helps people in developing countries). read more...
Marbella 4-Days Walking - 8-11 October - For the fifth year in a row Marbella 4-Days Walking (M4DW) together with the townhall organizes this famous event, including almost 2,000 participants from all over Europe. The event was inspired by the biggest walkathon in the world, held in the Netherlands every year. read more...
Disney show comes to Marbella – 10 October - Disney characters will be literally skating on 'ice' in on the San Pedro Boulevard next month at the all new Happy Days Costa del Sol attraction which features an eco-friendly 'ice' rink, mini golf and classic American street food from a shiny Airstream trailer. read more...
World Class Classical Music Performances…in Marbella? - Did you know your family can experience world-class, classical musical performances right here in Marbella? Música con Encanto brings amazing performers right to our doorstep from all over the world. For aspiring musicians, they even have a youth orchestra open to string students, 7 to 13 years of age. read more...
English Language Listing - A tormented philosophy professor finds a will to live when he commits an existential act. Check out the trailer and get show times and locations for all the English language movies playing on the Costa del Sol. read more...
Looking for new customers on the Costa del Sol? - Do you - or someone you know - have a business in the area but just can't seem to find a way to connect with new customers? Check out this short video for some great tips. short video...
Job Board - To post a job listing or to see our full list of available positions in Marbella – click here
Marbella Questions and Answers Forum -To post a question, answer or to see our full list of Questions & Answers - click here
- A visitor asks Does anyone send their child to EIC school? Do you recommend it? - Find out what the community says on this topic. - click here
---
Does your business need a BOOST?
If you're looking for a way to reach international families in Marbella, Google now ranks MarbellaFamilyFun.com as the #1 portal on the Costa del Sol!

We offer you an interactive platform to reach families and to hear their direct feedback on your business. Before you spend a lot of money on advertising that may never reach your customers, find out how MarbellaFamilyFun.com can help you reach the people who can benefit from your products or services.

We offer a variety of packages to choose from to list and promote qualified businesses, services and events. Contact us if you would like to meet up with one of our representatives or have any questions: +34 671 450 434. Advertising Rates
Nothing is more powerful than "Word of Mouth"
Please tell your friends and family about our newsletter, and don't forget to follow us on Facebook and Twitter.

See you next Friday!