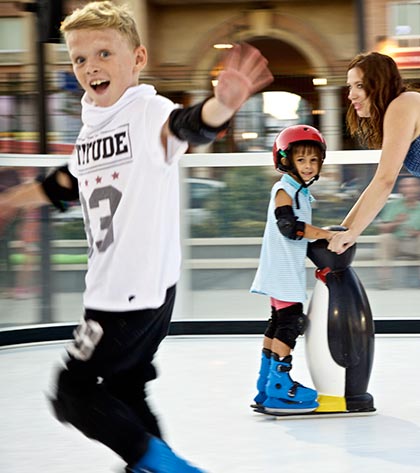 Marbella Family Fun Weekly Newsletter – August 21, 2015
Outdoor Ice Skating in Marbella is now possible! - You don't have to wait until Christmas to put on your ice skates and experience "summer" ice skating in Marbella! This brand-new venue also features a 9-hole miniature golf course and American street food served from an iconic Airstream trailer. Located on the San Pedro Boulevard, this is sure to become a family favourite this season. read more...
La Vuelta - Spain's biggest cycling event - starts tomorrow in Benhavis! - If you like cycling, this is not one to miss, particularly since it starts right here. Cyclists will be delighted to see tons of bicycles zooming through town at the weekend, for the first stage of La Vuelta. read more...
Be Cool & Active Workshops in Fuengirola to boost your Spanish! - This is a great and highly interactive way for kids, teens and adults to build new skills in a fun, exciting and engaging way. The workshops are designed to enable you to quickly develop a solid base of Spanish while mastering a new skill. read more...
Open water swim race coming to Marbella this weekend! - Here's a great way for swimmers of all ages to get out enjoy an invigorating morning swim in San Pedro. The race will take place in San Pedro bay on August 23rd and feature cash prizes and trophies for the fastest swimmers. read more...
Great food tips for gluten-free families or those with lactose intolerant kids! - Check out some delicious and easy to prepare foods from our contributing Marbella nutritionist, Indre Coleman. These are wholesome and delicious family summer meals that your kids will love, particularly if they eat gluten-free foods or are lactose intolerant. read more...
Looking for something for the kids to do next week? - There are still plenty of summer camps in session all over the Costa del Sol. Whether your kids are into sports, cooking or arts & crafts – they´ll find loads of great ideas here. read more...
A great time for a half-day tour on a private yacht! - This is a really cool outing for those that have always wanted to charter a luxury yacht for their friends or family but never quite knew how to find a reliable service with reasonable pricing here on the Costa del Sol. The weather is perfect this time of year to see a part of Marbella you never knew existed and Captain Jones has over 40 years of experience skippering yachts from Bermuda to Marbella. Priced from €75 per person for a truly unique Marbella experience. read more...
Thinking of buying or renting a place in Marbella? - Check out our all-new Family Real Estate section, focusing on solutions expressly for families considering making Marbella more than a quick vacation destination. read more...
Family friendly 10K run for a great cause – August 30th. - Mark your calendars for another great 10K in Marbella this summer. The III Carrera Solidaria will be a fantastic way to get out and show your support for the fight against Multiple Sclerosis. There will also be a "Mini 2K" for those that want to participate. read more...
Problems cannot be solved with the same mind set that created them. - Contributing author and life coach professional, Leila Youssef, explains why it's so important to change your mindset in order to tackle the biggest challenges facing your personal relationships. read more...
English Language Movie Listing - The Griswolds are back in their long-awaited sequel to Vacation, now showing in English. You can watch the trailer and get show times and locations for all the English language movies playing on the Costa del Sol. read more...
Looking for new customers on the Costa del Sol? - Do you - or someone you know - have a business in the area but just can't seem to find a way to connect with new customers? Check out this short video for some tips. short video...
Job Board - To post a job listing or to see our full list of available positions in Marbella – click here
- Job Opportunity for Sales Manager for a Web Marketing company – click here
Marbella Questions and Answers Forum -To post a question, answer or to see our full list of Questions & Answers - click here
- A visitor asks Can anyone recommend a good face painter for birthday parties? - Find out the opinions of others in this situation. - click here
---
Does your business need a BOOST?
If you're looking for a way to reach international families in Marbella, Google now ranks MarbellaFamilyFun.com as the #1 portal on the Costa del Sol!

We offer you an interactive platform to reach families and to hear their direct feedback on your business. Before you spend a lot of money on advertising that may never reach your customers, find out how MarbellaFamilyFun.com can help you reach the people who can benefit from your products or services.

We offer a variety of packages to choose from to list and promote qualified businesses, services and events. Contact us if you would like to meet up with one of our representatives or have any questions: +34 671 450 434. Advertising Rates
Nothing is more powerful than "Word of Mouth"
Please tell your friends and family about our newsletter, and don't forget to follow us on Facebook and Twitter.

See you next Friday!