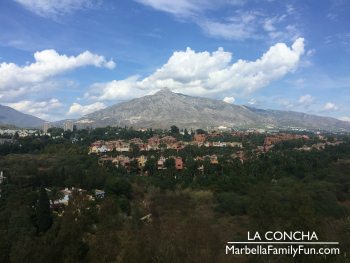 Marbella Family Fun Weekly Newsletter – October 2, 2015
Elton John, Elvis, Neil Diamond and Joe Cocker Tribute Tonight – 02 October - The Festival of Legends has brought some amazing talent to Cines Goya in Puerto Banus this evening and the performers are so good that you may be wondering if you just stepped out of a time machine! Tickets available at the Cines Goya box office. read more...
Authentic Mariachis in San Pedro Tonight – 02 October - Check out live Mariachi Singer, Cesar Leon, while enjoying authentic Mexican cuisine right beside the beautiful central square in San Pedro. The outdoor terrace is in a secure making it a great location for kids. read more...
Go Take a Hike! - The cooler weather means that it's the ideal time of year to take the family on a hike up La Concha or the Teleferico Benalmadena. Here's a tip on preparing for the hike so you can focus on the fun and not your growling stomach when you're half-way up the mountain! read more...
Neon Night Fundraising Walk– 03 October - Last year, this event attracted over 800 people, eager to show their solidarity and all funds raised will go toward needy organisations including CADI (for child diversity) and Plan Internacional (which helps people in developing countries). read more...
Looking to revitalize your skin without surgery? - You don't need to undergo an invasive procedure or inject yourself with something to achieve that radiant glow you see all over town. In fact you may be surprised at how effective this technology is in revitalizing your skin without needles, knives or harsh chemicals. read more...
Marbella 4-Days Walking - 8-11 October - For the fifth year in a row Marbella 4-Days Walking (M4DW) together with the Marbella Town Hall organizes this famous event, including almost 2,000 participants from all over Europe. The event was inspired by the biggest walkathon in the world, held in the Netherlands every year. read more...
Are you sure you've got the health coverage that's right for your family? - If you haven't read the fine print of your policy lately, you might be surprised at what isn't there. If you're an expat family living here year-round, here's a way to make sure you don't have any surprises at the wrong time. read more...
One of the Hotly Anticipated Openings of the Year – 08 October! - Kids and families will now be able to enjoy one of the fastest-growing indoor activities in the world at this amazing new trampoline park! CostaJump is one of the first indoor parks of its kind in southern Spain and its arrival brings with it a massive indoor arena filled wall-to-wall with trampolines, right to us in Marbella. read more...
The Bishlin Guide is Back! - Check out the latest restaurant reviews by our local aficionado, Morris Bishop, and read what he thinks about all the new destinations in and around Marbella. read more...
Disney show comes to Marbella – 10 October - Disney characters will be literally skating on 'ice' in on the San Pedro Boulevard next week at the all new Happy Days Costa del Sol attraction which features an eco-friendly 'ice' rink, mini golf and classic American street food from a shiny Airstream trailer. read more...
World Class Classical Music Performances…in Marbella? - If you love world-class musical performances or one of a kind music documentaries, sign up for the all-new Música con Encanto Monthly Newsletter and get the update on what's happening each month. You'll be amazed at what's happening in the cultural scene on the Costa del Sol. read more...
English Language Movie Listing - Get show times and locations for all the English language movies playing on the Costa del Sol. read more...
Looking for new customers on the Costa del Sol? - Do you - or someone you know - have a business in the area but just can't seem to find a way to connect with new customers? Check out this short video for some great tips. short video...
Job Board - To post a job listing or to see our full list of available positions in Marbella – click here
- Organic With Love (OWL) is looking for an Energetic & Passionate Customer Service Team Member for their new hotspot to open in San Pedro. For details... - click here
Marbella Questions and Answers Forum -To post a question, answer or to see our full list of Questions & Answers - click here
- A visitor asks How happy are you with your Spanish language classes? - To find out what the community is saying. - click here
---
Does your business need a BOOST?
If you're looking for a way to reach international families in Marbella, Google now ranks MarbellaFamilyFun.com as the #1 portal on the Costa del Sol!

We offer you an interactive platform to reach families and to hear their direct feedback on your business. Before you spend a lot of money on advertising that may never reach your customers, find out how MarbellaFamilyFun.com can help you reach the people who can benefit from your products or services.

We offer a variety of packages to choose from to list and promote qualified businesses, services and events. Contact us if you would like to meet up with one of our representatives or have any questions: +34 671 450 434. Advertising Rates
Nothing is more powerful than "Word of Mouth"
Please tell your friends and family about our newsletter, and don't forget to follow us on Facebook and Twitter.

See you next Friday!