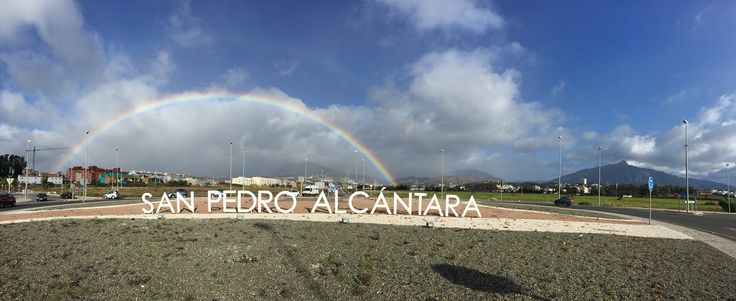 Marbella Family Fun Weekly Newsletter – January 30, 2015
Although we have a bit of "Liquid Sunshine" on the horizon this weekend, with it comes a beautiful rainbow. Rainbows often come and go, before you have a chance to grab your camera, this particular rainbow has been present all morning and seems to be getting stronger and brighter as the day progresses. If you haven't had a chance to yet, take a peek out your window to see if you can catch a glimps of this beauty. If you look closely, you will see that it is a double rainbow.
Hospital CERAM – wondering where the best new medical centre is? Check out the Open House at Hospital CERAM too see their brand-new facility in Marbella on 4-6 February. CERAM is Marbella's newest and most modern facility covering the entire spectrum of medical services from Pediatrics and private Hospital Care through Assisted Reproduction Therapies. read more...
Marbella Duathlon – Sunday February 22, 2015. The race consists of 5 km running, 20 km cycling then 2.5 running. Starting point is Nueva Alcantara Tennis and Padel Club. Registration deadline is Feb 20 or enrollment of 300 participates, which ever comes first. read more...
Pilates at Health First Studio – get a full month of Pilates classes at Health First Studio in La Campana for only €60 when you sign up by 31 January 2015! read more...
Marbella Charities – if you're looking for a way to help the less fortunate either by donating your time, articles of clothing or money, check out our updated Marbella Charities page. Every bit helps those who are less fortunate! read more...
Snow in Marbella? – for those that love snow, it was only a one-hour's drive from Marbella last week in Sierra de las Nieves! The winter season is a great time to get the kids hiking in the beautiful mountains around Marbella. For ideas on what to do in the Mountains, check out our page on Marbella Mountain Activities. read more...
Classic Car Show – take the kids to Malaga this weekend to feast your eyes on over 1,000 amazing classic cars this weekend! In addition to amazing Ferraris and the best collection of Porsches on the Costa del Sol, you'll also see an amazing car nicknamed "Jaws" for its groundbreaking design. read more...
Marbella Carnaval - Block your calendars for Carnaval de Marbella! The Carnaval de Marbella (Marbella Carnival) is celebrated every year and is a festive occasion for the entire family. read more...
Valentine's Day – what have you planned? Restaurants around town are going all out to make the evening a special one. From plate smashing to the Love Boat, you're sure to find something interesting on our Valentine's Day recommendations. read more...
Mi Marbella - A huge thank you to Nicole King from Mi Marbella radio for hosting students and teachers from Laude San Pedro International School regarding their upcoming Gala. Mi Marbella is an English language radio show for Marbella on local laws, news, events with interviews and more from 3.30pm - 5 pm, Wednesdays to Fridays on Radio Marbella. In case you missed the live interview with Laude, be sure to find it on line at to hear the entire interview...
Bishlin Guide Restaurant Review – like Thai food? This week find out what our Food Critic had to say about Sukhothai on the Golden Mile. read more...
Free Kids Activity - Saturday, January 31. FORUM OF FNAC. FNAC KIDS CLUB Children's Music Workshop with Marbella Music School. At 12.00 h. Free admission. read more...
Don't Miss the Laude Gala - Tickets on sale at the Laude reception from Lily Lam in the admissions office or outside of the school daily from 4.15 – 4.45 from our students. read more...
Looking For a Job in Marbella?
JOB OFFER: Sales Manager for Web Marketing Company click here
JOB OFFER: Telesales for company in Mijas Costa - click here https://www.marbellafamilyfun.com/job-offer-telesales-for-company-in-mijas-costa.html
To post job listing or to see our full list of Professional Services - click here
Questions & Answers About Marbella
Community Service - 17-year-old boy is looking for a community service opportunity for his International Baccalaureate diploma and would love to do it in the Mijas Costa area. click here
Does anybody have any tips or suggestions? To post a question or see our full list of Questions & Answers - click here
---
Advertise With Us
Does your business need a boost? Looking for a way to promote your family friendly business or event? Consider advertising with MarbellaFamilyFun.com to reach the audience you need. We have a wide variety of packages to choose from to list and promote qualified businesses, services and events. Contact us if you would like to meet up with one of our representatives or have any questions: +34 671 450 434. Advertising Rates
Dont Forget The Power Of The BUZZ
Please tell your friends and family about our newsletter, and dont forget to follow us on Facebook and Twitter.

Thank you...and see you next Friday.