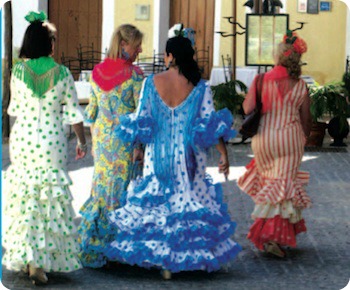 Marbella Family Fun Weekly Newsletter – June 12, 2015
Does your family have the next Spielberg or Scorsese? - If you have kids or teens that love acting or movie making, the Mad Hatters Film Camp has an all-new session kicking off July 6th. The two-week program is designed to give kids 8-to-18 years of age the once in a lifetime experience of hands-on, practical lessons creating their very own films. A great option for creative minds and delivered in cooperation with Sotogrande International School. read more...
This is the ultimate Marbella family experience! - For the price of a nice dinner, you can now charter a 45-foot yacht and experience the Mediterranean as you have only dreamed. A great way for families to see Marbella from a whole new experience and you may even get to see a pod of dolphins or orcas (yes orcas!) up close and personal. Skippered by a 40-year sailing veteran from Bermuda, this is day the family will cherish for a lifetime. read more...
Are you or your kids passionate about design? - We are fortunate to have a world-renowned design school right here in Marbella that offers Bachelor of Arts Degrees awarded by Middlesex University London. In addition to their 3-year degrees, there are some amazing summer courses available for those seeking to take their creativity to the next level. read more...
Frozen Fans - Frozen Party in the Park at the Multisports Club, today, June 12th. Live sing-along, story time, games, treasure hunt, balloon gifts and surprise guest! Get your tickets today, spaces are limited read more...
Looking for a party this weekend? - Join the fun at Hard Rock Cafe Marbella in Puerto Banus on Sunday, June 14th as they celebrate the legendary brand's 44th Birthday with 70s memorabilia, live music and giant €4.44 burgers for the first 44 orders. A rockin' good time! read more...
San Bernabe Marbella Fair - The Marbella Feria is in full swing this week. If you are there and would like to share your photos with the MarbellaFamilyFun community post them on our Facebook page. We'd love to see you and your family out enjoying the Marbella Feria. MarbellaFamilyFun Facebook...
Get the most of the Marbella Feria - see the full schedule of activities. read more...
Piano Concert for Charity in Estepona - Don't miss Samuel Gomez, a year 12 student at Laude San Pedro International College, in concert on Saturday 13th June, at 21.00 in Estepona (recinto ferial; caseta oficial). This event is organized by the Estepona Town Hall. We have seen him play and he is truly a remarkable talent. read more...
IberCup 2015 - World class junior football is coming to the Costa del Sol. Matches will be played on pitches from Marbella to Estepona. Keep an eye on our calendar of events for match dates and locations. read more...
Classical Music Recital - in Estepona June 20, 2015. One of Marbella's best-kept secrets: the city offers top-notch musical performances usually found only in the major cultural capitals of the world. read more...
Summer rental - One of our international family visitors is offering their townhouse in San Pedro for rent this summer. If you know of a family looking for a centrally-located rental, nearby pedestrian areas, cafes and the beach, check this one out. The family speaks English, Spanish, German and French. read more...
We love free stuff - Charlott Lingerie Costa del Sol is proud to announce its First Lingerie & Swimwear Collections 2015's Fashion Show via the Expats Club Malaga. FREE ENTRANCE July 31, 2015 read more...
English Language Listing - Check out the official trailer for Jurassic World, the fourth movie in the Jurassic series. Get all the show times and locations for English language movies playing on the Costa del Sol. read more...
Job Board - To post a job listing or to see our full list of available positions in Marbella – click here
Marbella Questions and Answers Forum -To post a question, answer or to see our full list of Questions & Answers - click here
---
Advertise With Us
Does your business need a boost? Looking for a way to promote your family friendly business or event? Consider advertising with MarbellaFamilyFun.com to reach the audience you need. We have a wide variety of packages to choose from to list and promote qualified businesses, services and events. Contact us if you would like to meet up with one of our representatives or have any questions: +34 671 450 434. Advertising Rates
Don't forget the power of "Word of Mouth"
Please tell your friends and family about our newsletter, and dont forget to follow us on Facebook and Twitter.

Thank you...and see you next Friday.