Christmas Charity High Tea Extravaganza In Aid Of The Asociación Nuevo Futuro de Estepona
by Eunice O'Rourke
(Malaga Spain)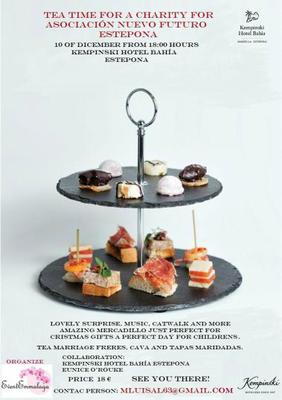 Día del Te
The event is organized by Emma Plopez of " Eventemmalaga" with the collaboration of Hotel Kempinski - Eunice O´Rourke from Costa Women and Others.


Thank you to everyone who comes to this event to help raise funds to see a child smile this Christmas.
On Wednesday the 10th of December The Hotel Kempinski in Estepona – Costa Del Sol will host a charity event to raise money for the Asociación Nuevo Futuro de Estepona.
This charitable organization has worked very hard for many years to help children with many different kinds of problems who live in the area of Estepona.
The Theme will be "Día del Te"( High Tea day ) from 18´00 h. Entrance is FREE and the price of the High Tea is 18 euros which will include a selection of cakes and different kinds of tea.
There will be many different events throughout the evening including - A Christmas Market selling wonderful original gifts for Christmas all at very affordable prices - including Unique Bespoke Silver Jewellery, Home Made Meringues & Cup Cakes, Home Made Jams & Marmalades, Bespoke Christmas & Greeting Cards, Designer Dog Accessories, Hand Made Natural Soaps & Skin Care Products, Children's Face Painting and Hand Made Clocks, Christmas Gifts & Wind Chimes, Hand Made Aromatic Candles, Hand Made Christmas Decorations,
Customised Crystalised Gifts and Hand Made Gifts For All The Family Including Specialised Tepees and Tents for Children.
Music and Christmas Songs from Coro del Colegio San Jose de Estepona and The Funky Vocals singing group from Fuengirola.
A Fashion Show with beautiful designs from Francisco Amaral and the members of Escuela de Diseño de Marbella, Lauriane L´Eplattenier and Raissa Faber.
There will be the possibility to buy some of the designs of Francisco Amaral (ex worker of Lorenzo Caprile )at the event at an exceptional price.
A Children's Area
A Raffle with a range of amazing prizes with values up to 400 Euros donated by various Companies - Organizations and Magazines .
For further information please contact Emma Plopez
Tel - 34 637 484 207
Email - info@eventemmalaga.com
https://www.facebook.com/EventEmmalaga
www.cocinacomeycalla.com
Or Eunice O'Rourke
952 592133
Email eunice@mercuryin.es
www.facebook.com/eunice.orourke