Bikini Beach - Estepona
Spend a fantastic day lounging on the beach with family at Bikini Beach restaurant and beach club in Estepona. You were there? Please send us your evaluation and grade. We would love to hear from your family!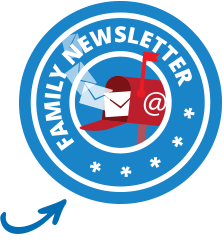 share this page with a friend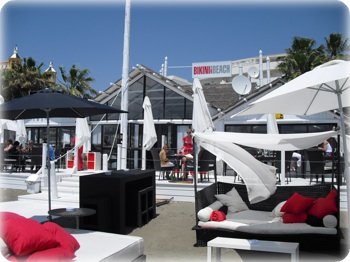 Bikini Beach is a lounge bar/restaurant on the sandy beach along the paseo in Estepona. It has a large wooden deck with indoor and outdoor tables for a drink or a pleasant meal. The beach is equiped with new beds, single and double lounge chairs at affordable prices from 7 to 30 euros per day.

Location: Playa de la Rada, along the paseo in Estepona.
Tel: +34 951 77 54 53
MarbellaFamilyFun grade: 9.0
---
Son's evaluation: Bikini Beach is a very good restaurant which has a mixture of different types of foods. I really liked the desserts. It is very relaxing and comfortable as it has got sofas on the sand right on the beach. Next to the restaurant is a little football pitch which anybody can play in so you should bring a ball. Grade: 9.0
---
Daughter's evaluation: I really like Bikini Beach as it has various types of foods, I especially think the dessert was good. Bikini Beach is very comfortable since it has sofas and comfortable chairs right on the beach. All kids (mostly boys who like football) should bring a ball because there is a football pitch near the beach. Grade: 9.0
---
Mom's evaluation: We really enjoyed the day at this new beach restaurant. It has all the chic of a cool beach bar, yet had plenty of children running around with their families playing on the beach. The day beds with umbrellas at €30 a day is very reasonable compared to the ones in Marbella going for around €100 a day.

The food was great and the menu had a nice variety from pasta to burgers. I loved the Thai chicken salad as it was exotic yet refreshing on a hot day. The staff was very friendly and even played with my kids in the sand. I noticed there was a massage table as well and was tempted to go for one. Grade: 9.0
---
Dad's evaluation: We discovered Bikini Beach restaurant as a family on a sunny Sunday and I must say I really enjoyed it. The place has been completely refurbished and looks beautiful and clean. The menu was very interesting with food for all tastes: thai salad, lebanese apetizers, pasta, burgers, meat, fish... The service was so friendly and the prices reasonable that we stayed at the table soaking up the sun for 3-4 hours while the kids were playing by the sea. The beach is great and the price of the beds much cheaper than in Marbella. There is also a public parking right across the street. Grade: 9.0
---
Leila's family (Marbella) grade: 7.0

---
Mom: I thought Bikini Beach was rather expensive for what it was. We ordered some kind of savory salad with vanilla sauce and it was horrible. However, the beds were reasonably priced compared to Marbella. The sand there is alright, but the sea is really rocky once you´re inside. Grade: 7.0
---
Natasha's family (Marbella) grade: 8.5

---
Natasha: Очень приятное место. Очень уютненькие кровати под зонтиком в тени. Можно заказать прохладительные напитки, покушать. Море чистое. Обслуживание хорошее. Если я правильно поняла очень популярное место среди французов. Французская речь была везде вокруг. Даже живая музыка была по-французски.
---------
Bikini Beach is a very pleasant place. Very cozy beds under an umbrella for shade. You can order cold drinks, eat. The sea is clean. Service is good. If I understand correctly Bikini Beach is a popular spot among the French. We heard French being spoken all around. Even the live music was in French. Grade: 8.0
---
Dad: Good food. Nice service. Live music. Comfortable sofas. Good option for the kids. Grade: 8.0
---
Boy (11 yrs): Очень хороший пляж. Но не забудьте обуть специальную обувь, т.к. вход в море каменистый и можно поранить ноги. Официанты очень приятные. Еда вкусная. Классные кровати прямо на пляже.
---------
Bikini Beach is a very good beach. But don´t forget to wear special shoes because the entrance to the sea is rocky and you can hurt your feet. The waiters were really nice. The food was delicious. Cool beds right on the beach. Grade: 10
---
Girl (6 yrs): Понравилось море. Из песка мы строили замок. На больших кроватях в тенечке было здорово играть в «UNO». Можно также заказать покушать Чикен нагетс, клубнику и мороженое. Вкуснятина!
---------
I liked the sea at Bikini Beach. We made a sand castle. It was great playing UNO on the big beds under the shade. You can even order something to eat - chicken nuggets, strawberries and ice cream. Delicious! Grade: 8.0
---
Back to top of Bikini Beach - Estepona
Aug 13, 17 03:29 PM

Hello Just moved from Paris, my wife and myself live in Estepona and we would love to know around couples or families to hang out together, have a drink

Aug 13, 17 03:25 PM

There is a SUPERB family run stables between San Pedro and Estepona, just behind Hospiten hospital off the A7. They are very friendly and have lots of

Aug 13, 17 03:23 PM

There is a horse riding stables between San Pedro and Estepona that hosts great Pony Parties for children that are mad about horses. Bring a group for